Been slugging it out to pull traffic to your site, but still living in the poor house?
Have you spent hours upon hours grinding away at all the regular traffic strategies (SEO, Paid Search, Facebook, affiliates …) but damn it, they just won't buy!? Are you spending your hard-earned cash paying for traffic but going broke? 
It seems like there's a million miles between the results we get and the "over the top" results folks pitch at seminars (have you ever found yourself wondering if this "making a living off the Internet" deal is just a pipe dream…?)
 


A lot of folks I talk to think they have a traffic problem when they really don't. What they really have is a conversion problem, and for some reason they're blind to it.
This "conversion blindness" is sucking the life out of their online business.
I'm helping a friend at the moment who gets 10,000 visitors a day to his site and is going broke! Sometimes traffic isn't the problem…
So today, and in a few posts to follow, I'm going to attempt to give a lesson on a critical, but regularly overlooked, topic – website conversion. Or to say it with a little emotion – "I'll show you some stupidly simple ways to tweak your website that will consistently deliver a stack more cash". 
Conversion is the measure of how many of your site visitors "take action" (e.g. buy, sign up etc). The very very good news is that you can improve your site's conversion rates. Just because only 0.5% of your visitors buy from you now doesn't mean that's the ratio for ever. Conversion rates are most certainly NOT set in stone. 
You can use basic, proven techniques to see your sales go up and up and up.
With a little focus and the help of some free tools, you can out-sell your competition. 
Case Study: Doubling a site's conversion rate!
Let me give you a case study that's close to my heart. Since launching Market Samurai almost three years ago, we've grown the conversion rate of our site by approximately 200% (the videos and checklist in this blog series will show the steps we used). As you'll see, we followed basic principles, and we ran a series of "split tests" (more on these shortly). These tests revealed the sales messages that you, our readers, best respond to. 
It is nasty to think what would have happened had we not worked up our conversion rates. Without that 200% increase in conversion, at a minimum: 
- We'd have approximately 200,000 less users
- Our affiliates would be making one third of the revenue they do (many would have quit)
- We'd have struggled to pay staff wages (keeping Market Samurai running is no small feat – we have 10 full time staff and a number of contractors). 
- Personally, I'd live in a lousy house
- Eugene (Samurai CEO), and I would be having those hard conversations with our wives about 'getting real jobs'. 
Thank goodness that we worked on conversion!!
Hopefully, I've convinced you this stuff is important. If you're focusing on traffic alone and haven't looked at conversion, you're in for a treat, and if you'll take some action, a pay rise too! So pay attention. 
An overview of the first video…
In today's video we'll cover: 
- A quick overview of the basics (e.g. what split testing is). 
- Where conversion fits in your overall Internet Marketing processes
- A link to my personal conversion checklist (for the intent marketing professionals wanting to jump ahead). 
- The hidden benefits of increased conversion (once you understand these you'll never neglect conversion again). 
So here's the video.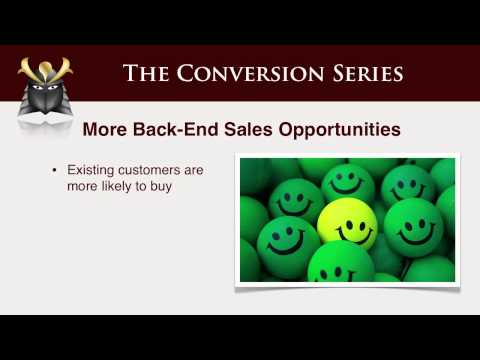 Coming up in the next videos
- The big reason website owners tolerate poor conversion (I've never heard this talked about anywhere). 
- The mechanics – how split testing works. 
- Seven specific "conversion boosting" techniques you can apply to your websites. 
Stick around, this stuff isn't hard to do, but the impact of consistent testing is, without exaggeration, life changing. 
Important – Before you go, have you got a comment? Had experiences with Split Testing? Share it with our community in the comments below…
May your sites out-sell your competition 10:1,
Ben
P.S. – This is a free series (I wish we had an awesome conversion product to sell you!!). Plus, we've thrown in my personal conversion checklist. If it's been helpful please share the love by clicking the "Like" button below. 
P.P.S. – Here's a link to the conversion checklist mentioned in the video!