In my last post, I hope I convinced you just how important conversion is and how focusing on traffic alone can be a recipe for pain and failure. Boosting your conversion is the closest thing to a "magic silver bullet" you'll find when it comes to making money online.
And personally, we wouldn't be here, had we not run split tests on MarketSamurai.com.
Last post I also released my personal conversion checklist in case you missed it.
Today we'll cover:
a) A Market Dominance Case Study – how, by focusing on conversion, a technically clueless website owner become Australia's second largest online retailer in the tennis niche.
b) The Main Reason Why Most Folks Still Don't Test! – We'll dig a little into the concept of 'silent rejection'. I argue that this is the number one reason why website owners (even those with a deep understanding of testing & conversion), don't take the simple steps they know they should to drive up their sales.
I've never heard anyone speak on this before, but once you realize just how much 'silent rejection' you're getting (every hour of every day), I expect you'll get super motivated about boosting your own conversion rates.
c) How Testing Works – We take a look at the basic mechanics of online testing (e.g. how it actually works). The good news is, understanding online testing is really quite simple (the explanation takes less than 2 minutes).
d) Intro to Google's Website Optimiser (aka GWO) – this is the free tool we use and recommend. I attempt a high level overview of how GWO weaves its magic. I should note, for specific details about GWO, I recommend the Google Website Optimizer Tutorials and Videos Page.
e) Where To Test – And finally, before you charge off & start testing your site, we'll discuss where in the online sales process you should focus your testing efforts for optimum results
So I hope you enjoy: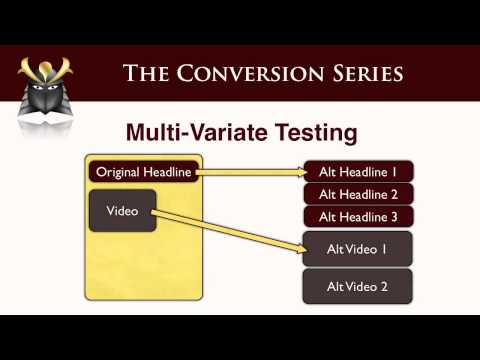 It's been my experience that working on conversion isn't really about stats and numbers, it's about bottom line profit and lifestyle. Boosting conversion lets you live in a better house, and for me, it lets me send my kids to the school I want to (and not stress about fees).
So stick around for the remaining two posts later this week. In our next video we'll look at seven different sales techniques you can apply today to start driving up sales. I reckon even the veteran testers out there will find they're not using all of these consistently.
Until then, may you leave your competition bewildered by your rapid growth in sales.
Ben
P.S. I'd love your feedback in the comments below, or if you're enjoying the series, share the love by clicking the Facebook "like" above.
P.P.S. Google Website Optimizer is awesome and it's free. However, it's certainly not the only split testing tool out there. I'd love to hear from active testers who've used other packages and would recommend them (no affiliate links please). At present, I'm on the hunt for an easy way to test different themes for an entire site and haven't found the right tool yet, so any suggestions would be great.