Yesterday, Kenny Goodman answered some important questions on Domain Name SEO – covering keyword optimization of domains and 4 key considerations for choosing a domain (TLDs – .com, .org and .net; hyphenation in domain names; keyword density; and adding prefixes and suffixes to domains.)
Today, Kenny's back to build on yesterday, and will look at:
5 SEO Authority Factors affecting New and Aged Domain Names …and;
The Domain Name Lifecycle – Understanding the 4 Phases of Domains
These are two important topics to cover before we begin finding aged domains – in part, because they help us to work out the quality of aged domain names, and because they help us to find opportunities to acquire high quality domain names that other people overlook.
Reminder: Keep posting your questions! – Kenny's been replying to as many of your questions as possible here on the blog, and we'll do out best to make sure that we cover as many of your questions as possible.

SEO Authority Factors affecting New and Aged Domain Names
In addition to keyword optimization and TLD choice (covered in the previous videos), there are several measurable SEO factors that affect how all domains – New Domains or Aged Domains – are seen by the search engines.
If you're starting with a new domain, it's important to know about each one of these factors so that you can build your domain's authority up in as many of these areas, and outrank your competitors. (Remember the "Outrunning Lions" story?)
If you're looking to buy an Aged Domain it's important to know what these 5 measureable domain SEO factors are, and how they affect domains, before you begin buying. That's because without this knowledge, it's impossible to really know whether the domain you're buying is a good deal (nobody wants to pay good money for a dud domain!)
By knowing these factors and how they affect domains, you can begin to measure how much of a "head-start" you are getting on your competitors when it comes to "Outrunning Lions".
The 5 measureable SEO factors that Kenny will be looking at include:
Backlinks
PageRank
Age
History
High Value DMOZ / Yahoo! Directory Listings
In this video, Kenny covers the fundamentals of these 5 factors – what are they, how do they work, and how they relate to both New and Aged Domains.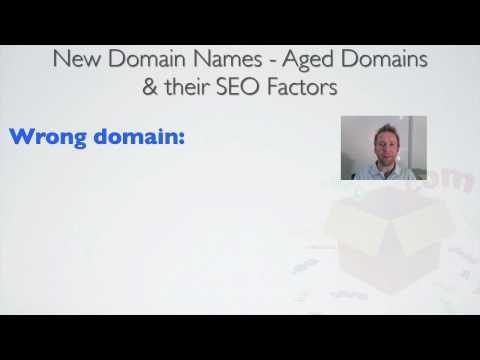 Some key points you'll want to watch for include:
The value of PR – why a slightly higher PageRank makes a domain substantially more valuable.
Why it's important to avoid domains with an irrelevant or spammy history – why a New Domain is better than an Aged Domain with a bad history.
How Aged Domains with DMOZ or Yahoo! listings can save you time, money and effort.
How an Aged Domain can improve your ability to be "seen" and get new content indexed fast.
The Domain Name Lifecycle
There are 4 key phases of the domain lifecycle – and in each phase there are opportunities to buy domain names.
Because most people don't realise this (i.e. they only know how to buy domains during 1 or 2 of the four phases), they overlook most of the best opportunities to buy very high quality domain names that are out there.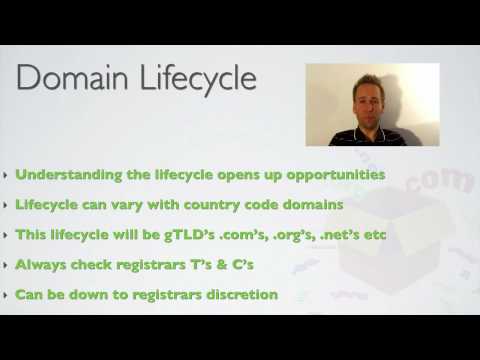 This video provides an explanation of the domain name lifecycle for gTLDs (.com, .org and .net), and what happens to domain ownership at each of the 4 phases of ownership.
More Domain Name SEO Questions Answered
As I mentioned above, Kenny's been kind enough to keep coming back to help answer questions for as many people as possible in the comments of the recent blog posts.
It seems there are a few answers that a quite lot of people are still wanting more information on.
So I wanted to post Kenny's answers to some of the more frequently asked questions:
.com vs .org vs .net
Question: How would you rate .com, .org and .net – which is best?

Kenny: All other things being equal, .com domains will always hold the greatest value… After that, there's some debate whether .net or .org have the edge – but personally, for me, I have had better SEO experience with .org's.
Country-Specific Domains (ccTLDs) and SEO
Question: When is it good to use a country-specific domain, and when is it bad?

Kenny: In general, country-specific TLDs or ccTLDs (such as .co.uk, .com.au, .de, .ca) are particularly valuable if you're promoting a business that is specific to the country that the country-specific TLD is from. So if you're running a business that operates exclusively in the UK, .co.uk will give you a ranking boost in the UK.

But you should avoid using ccTLDs if you want worldwide rankings. Although a ccTLD will give you a ranking advantage in one country, it will give you a ranking DISADVANTAGE in all other countries. So keep this in mind.
Should I add a prefix/suffix if the keyword.com is unavailable? Or try another TLD?
Question:If you are able to get keyword.org or keywordonline.com which should you go for? Does the extension or the keyword density have more pull in Google?

Kenny: If all other factors are the same and for SEO reasons only – I would go for the .org all day long [in your example].
Domain Name Length and SEO – is a Long Keyword Domain a Bad Domain?
Question: What if, the dot com domain name comprises of 4 or 5 words and yet the domain is the exact keyword being searched for? Is there any disadvantage of having a long domain name for 18 to 25 words?

Kenny:If you are targeting that exact long tail key phrase then this would be the perfect domain.
Is it best to choose a different TLD (e.g. .net instead of .com) or target a lower-value keyword if the keyword.com is taken?
Question:If I was in the custom embroidery business, and CustomEmbroidery.com was not available, would I be better off with CustomEmbroidery.net or going after something like CustomizedEmbroidery.com even though "Customized Embroidery" might get only 10% the number of searches as "Custom Embroidery"?

Kenny: For SEO reasons: CustomEmbroidery.net

[However,] you may consider the .com if you are looking to build a brand. DotComs have much more kudos
Pluralizing Domains – keywords.com instead of keyword.com
Question: What about suffixes like +s or +es? What do you think about this ones?

Kenny: If you cannot get the exact match then I would say +s is usually the next best thing because it is usually the next biggest or THE biggest keyword anyway. The +s in a lot of cases gets more searches but depends on the keyword.
Keep your questions on domain names and SEO coming – and we'll do our best to answer as many of them as possible for you.
Also, watch out for the next post. Kenny will be sharing some of his simple strategies for finding, and purchasing, high quality aged domain names.